Towns in the Cotswold region
Jane Austen Museum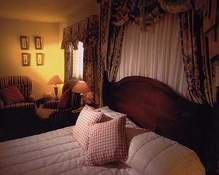 Jane Austen biography
Jane Austen (1775-1817) was born in the rectory at Steventon, Hampshire. She lived in the midst of a lively family and occasionally visited Bath, London, Lyme and her brothers' houses, settling in Bath for a five year period.
Jane Austen's Bath
Between 1801-1806, Jane Austen lived in Bath and a Georgian town house has been converted into a centre to commemorate her links with the city. The centre contains a permanent exhibition of her most famous works including the novels Mansfield Park, Emma, Persuasion, Sense and Sensibility, Northanger Abbey, Pride and Prejudice and the unfinished novel The Watsons and gives a glimpse of life in Austen's day. The grandeur of the city has changed little since the nineteenth century. There is also a Jane Austen Festival in Bath which includes walking tours of 13 Queen Square and 1 The Paragon Home where Austen stayed.
Northanger Abbey and Persuasion
Two of Austen's most celebrated novels are largely set in Bath and visitors can enjoy a tour of the places mentioned, including the Pump-room,
"With more than usual eagerness did Catherine hasten to the Pump-room the nest day, secure within herself of seeing Mr Tilney there…"
Northanger Abbey, ch. IV

the Crescent
"…the Thorpes and Allens…hastened away to the Crescent, to breathe the fresh air of better company"
Northanger Abbey, ch. V

and Beechen Cliff
"They determined on walking around Beechen Cliff, that noble hill, whose beautiful verdure and hanging coppice render it so striking an object from almost every opening in Bath."
Northanger Abbey, ch. XIV

Filming for the 1994 BBC adaptation of Persuasion was also based around the city of Bath.
Useful Information
Nearby Towns: Bibury, Cheltenham
Nearby Cotswold Hotels: The Swan at Bibury, The Greenway Hotel & Spa, Ellenborough Park Hotel, No.38 The Park
Similar Cotswold Attractions: Holst Birthplace Museum, Kelmscott Manor, Laurie Lee, William Morris, William Shakespeare, Beatrix Potter
Newsletter
Be first to get our best deals by email.
Gift Vouchers
Looking for the perfect gift? Gift vouchers are available in any value from £25 upwards.