About the Cotswolds
The Cotswolds is one of the most beautiful and unspoiled regions in England, with high, wooded hills and sweeping valleys dotted with charming, timeless villages of honey-coloured stone cottages.
Bibury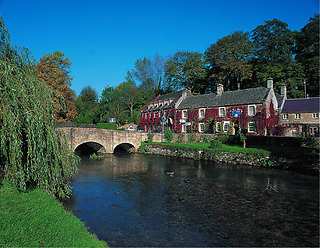 River Coln
Arlington Row
The village of Bibury is set in the beautiful surroundings of Coln valley, north of Cirencester. The history dates back to Iron age times and there are the remains of a hill fort located above the village.

The River Coln flows alongside the main street, which contains a row of former weavers' cottages called Arlington Row. Cloth was produced here in the 17th century and taken to Arlington Mill. Open to the public, there is a display of the history of the the mill, and a working water wheel.

The large church St Mary's contains original Saxon features and a fine stained-glass window in the north wall. It is likely that a church existed in Bibury as early as 750AD and much of the core of the present church is probably of Saxon origin, built in the late 10th century.

In the 17th and 18th centuries, Bibury prospered due to the wool trade, and it is during that time that many of the stone cottages were built, together with the Swan Hotel and the bridge over the Coln. Also at this time the Manor Court was held at the Swan and not far from the hotel can be found the village lock-up – a small octagonal stone building.

The Swan Hotel is a 17th century coaching inn with attractive views over the river. This luxury hotel features The Swan Sanctuary, with beauty therapy rooms available both guests and visitors.

Attractions: Arlington Mill
Luxury hotels in Bibury
Newsletter
Be first to get our best deals by email.
Gift Vouchers
Looking for the perfect gift? Gift vouchers are available in any value from £25 upwards.