About the Cotswolds
The Cotswolds is one of the most beautiful and unspoiled regions in England, with high, wooded hills and sweeping valleys dotted with charming, timeless villages of honey-coloured stone cottages.
Broadway
Broadway Village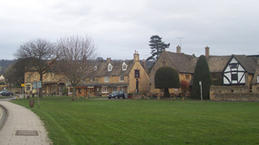 The Broadway Hotel (on right)
Broadway
Broadway is a beautifully preserved village in Worcestershire, located close to Cheltenham and Warwick race courses.
The village is entered down a steep hill, with impressive views over the boutique shops and buildings as you come into the village. It was once the possession of the Benedictine Abbey of Pershore. Later, it became an important staging post on the route from Worcester to London. Today are to be found an enchanting array of cafés and shops to delight the senses, many specialising in antiques.
A wonderful place to be at any time of year, the Broadway Hotel is ideally placed for visiting historic sites, the many beautiful golf courses in the rolling Cotswold countryside, inspirational gardens or for a trip to the races at Cheltenham or Warwick.
The Broadway Hotel and The Lygon Arms Hotel are fine historic buildings which have been carefully restored to preserve their rich history. The Broadway Hotel is the ideal small luxury hotel from which to base your Cotswold hotel break.
The Gordon Russell Heritage Centre (due to open soon), located off the High St, is a preserved workshop named after the local furniture maker.
The original Church is located a mile south of the village by the Jacobean Court House.
Luxury hotels in Broadway
Newsletter
Be first to get our best deals by email.
Gift Vouchers
Looking for the perfect gift? Gift vouchers are available in any value from £25 upwards.