About the Cotswolds
The Cotswolds is one of the most beautiful and unspoiled regions in England, with high, wooded hills and sweeping valleys dotted with charming, timeless villages of honey-coloured stone cottages.
Chipping Campden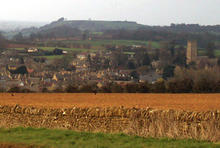 Chipping Campden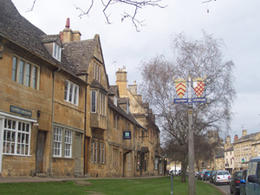 Chipping Campden Village Sign
Chipping Campden
Chipping Campden is one of the finest and best known of all the Cotswold towns. It has been kept beautifully preserved, thanks to the efforts of a local trust, formed in 1929 by a group of architects and craftsmen.

Many historic properies have been carefully restored and all telegraph and power cables have been transferred underground. Strict procedures ensure that all shopfronts blend in without intruding on the appearance of the town. One of the oldest buildings in the town is believed to be Grevel House, in the High Street, which was built around 1380 and has a distinctive bay window.

The High St has a wonderful array of shops to visit, including antiques and a wine merchant. The high street also has a Market Hall dating back to 1627. 'Chipping' actually means market, and the town was one of the most imporant wool towns during medieval times. The church at the northern end of the town has a 120ft tower, a symbol of the importance of the town. It also contains a very old pre-Reformation tapestry inside.

The historic Cotswold House Hotel is now one of the finest luxury hotels in the Cotswolds and the perfect place to enjoy a romantic luxury Cotswold hotel break.

The town has a number of crafts shops which date back to the beginning of the twentieth century and the legacy of the Guild of Handicrafts, established to promote traditional quality craftmanship, rather than mass-production by machines.

A workshop in the old Silk Mill in Sheep St is open for visits.

Events:

'Cotswold Olympiks' – Dover Hill.
Traditional games festival dating back to 1612. Takes place on the Friday after the Spring Bank Holiday each year. Fine views over the Vale of Evesham.
Luxury hotels in Chipping Campden
Newsletter
Be first to get our best deals by email.
Gift Vouchers
Looking for the perfect gift? Gift vouchers are available in any value from £25 upwards.