About the Cotswolds
The Cotswolds is one of the most beautiful and unspoiled regions in England, with high, wooded hills and sweeping valleys dotted with charming, timeless villages of honey-coloured stone cottages.
Painswick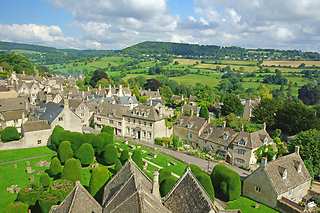 Painswick is the quintissential Cotswold town, situated to the south of Gloucester. The town is full of classically styled Cotswold houses, and features a striking churchyard with lines of yew trees and an elegant church at the centre.

A former wool town, Painswick is set in the hillside and there are former mills to be found at Painswick Brook in the valley.

Attractions: Painswick Rococo Gardens, Exploring gardening styles during the ages, featuring a maze and a Restaurant

Also: Painswick Beacon, Stunning views over the Severn Valley.

Events: Gloucestershire Guild Crafts, from end-July to end-August
Newsletter
Be first to get our best deals by email.
Gift Vouchers
Looking for the perfect gift? Gift vouchers are available in any value from £25 upwards.