Homewood is a country house hotel and spa filled with luxurious touches, creative interiors and great British food, just a short drive from the world heritage city of Bath. Guests can expect an elegant and refreshingly-individual approach to hospitality with warm hosting and local provenance at its heart. Set within 10 acres of restored gardens, you'll find 21 upscale bedrooms and a lovely spa, where you can bathe in the heated outdoor pool or hot tub every day of the year.
Romantic country house hotel near Bath
Spacious & luxurious bedrooms
Intimate spa with heated outdoor pool & hot tub
Lots of private lounge space with open fires
Plenty of private lounge space with open fires
Private Hot Tub Rooms


Information
Extending the Terrace Date: 11 February 2020
The hotel is having an ongoing refurbishment.
Currently until mid April the terrace is being extended to the front of the property.
Also 10 new bedrooms being build in the vicinity, predicted completion end of June 2020.
There should be minimal impact, and bedrooms are allocated away from any building work.
For further questions please get in touch.
Special Offers
Show Prices Per Person Per Room
The following offers are showing instant availability.
Hot Tub Heaven
Exclusive to Off Peak Luxury
Stay in a Hot Tub Suite and receive:
Complimentary 1/2 bottle of chilled Champagne and chocolates in your room on arrival
Dinner in the restaurant on the first evening of your stay (£70 per couple allowance, food only)
10% off dining on any subsequent evenings (food only)
Full use of the spa facilities from check in to check out
Full English breakfast daily
Lazy late check out at noon (value £55)
This package is non refundable in the event of cancellation
Sparkling Break - Junior Suite
Stay in a Junior Suite and receive:
A glass of English sparkling wine each on arrival
Dinner in the restaurant on the first evening of your stay (£70 per couple allowance, food only)
10% off dining on any subsequent evenings (food only)
Full use of the spa facilities from check in to check out
Full English breakfast daily
Lazy late check out at noon (value £55)
All of the above prices include all taxes / service fees.
* Offers showing provisional availability are subject to confirmation with the hotel and availability is not guaranteed. No funds will be taken from your card until the booking is confirmed, which will usually be within a few hours.
Offers showing instant availability are live and will be confirmed immediately.

Facilities at Homewood Hotel & Spa
A creeper clad manor house with its roots in the 13th century, Homewood has been given a completely new lease of life by its new owners. Original Georgian features, roaring fires and inspiring antiques sit alongside 21st century luxury and smile-inducing statement art and lighting at this country house hotel in the Cotswolds Area of Outstanding Beauty near Bath.
With 21 beautifully-designed bedrooms, from luxurious garden suites with their own private hot tubs to colourful cosy doubles in the original part of the house and spacious rooms for all the family, (including the dog), any visit to Homewood is all about relaxation. With a spa where you can feel your shoulders drop, refresh and rediscover your balance, a relaxed restaurant serving the best of British home-cooked food and 10 acres of beautifully-restored gardens to explore, you can make yourself at home and experience a taste of the good life.
21 Bedrooms
Riding
Tennis
Fishing
Health Spa
Outdoor Pool
Four Poster Bed
Wheelchair Access
Golf Course Nearby
Satellite TV in Rooms
Internet Connection in Rooms
Dogs by Prior Arrangement
Home truths
One of the things we liked best about Homewood is that there are plenty of quiet lounge areas to sit and enjoy an evening drink. Sometimes you might need to let a member of staff know which snug corner you have found so they can serve you!
The spa is an intimate relaxation area for guests. It was not meant as a large spa resort as such, and might be missing some of the features that you'd expect in a larger spa offering.
Good to know
Hotel check-in time: 3:00 PM
Hotel check-out time: 11:00 AM
Parking Facilities
Guests will find plenty of free parking is provided at the hotel
Disabled Access
Ground floor rooms available with a few steps to access.
No purpose designed disabled rooms and wheelchair access is limited.
Child Policy
Children age 3 and under stay free in the room. For children age 16 and under there is a charge of £35 per night, which includes full English and continental breakfast when sharing a room with two adults. Children over 16 are considered an adult.
Children are permitted to use the outdoor pool if supervised by an adult at all times.
Dogs Policy
Pets are welcome, there's a charge of £25 per night to include a welcome 'Woof' box.
The Rooms at Homewood Hotel & Spa
Deluxe Room
Deluxe King Rooms are spacious and individual with views over the gardens, rooftops or the front of the house. Each features a luxurious king bed (many of which can be also be twinned), elegant furnishings and easy chairs or sink-into sofas in which to relax and feel at home. Bathrooms or wetrooms come with colourful hand-blown Adam Aaronson glassware and are well stocked with 100 Acres Apothecary bath and body products.
Large Deluxe King room
Large Deluxe King rooms are geared up for taking your relaxation levels up a notch. You'll find luxurious king-size beds (many of which can be also be twinned), and bathrooms with lovely lighting, stocked with 100 Acres Apothecary bath and body products. There are also wing-back chairs or sofas in and calming views out over the gardens.
Junior Suite
Some of the largest rooms in house, Junior suites combine luxury and individuality with plenty of country house grandeur. With views out over the pool or garden, each features a king-size bed, separate sitting area and bathroom with bath and walk-in shower, stocked with 100 Acres Apothecary bath and body products. Colourful and luxurious, with plenty of homely touches and statement art and lighting, many of these rooms can be twinned if preferred and all of them are suitable for families.
Hot Tub Suite
The stunning range of Hot Tub Suites at Homewood Park are each unique in style and design.
The Hot Tub Suites can be found in the relaxing surrounds of the grounds.
Decorated in contemporary style – one chic and elegant and one rustic luxe – each suite has its own outdoor seating area and private hot tub.
Some suites have the feel of a luxury apartment, with their own separate sitting room or seating area and a hot tub for you to make your own.
One is decorated in rustic luxe style, with stone and wood clad walls and a seating area, while the other has an Art Deco feel, with its own separate sitting room. Both of these rooms have outdoor seating areas with a private hot tub, and one can be twinned if preferred and is also ideal for families.
You'll find statement art and lighting, a king-size bed and a vast bathroom with free-standing bath and shower, well stocked with lovely 100 Acres Apothecary bath and body products.
A particular room can be requested but not guaranteed.
Homewood's ethos is all about the best of British home-cooked food, served in elegant yet relaxed surrounds – in the restaurant, sitting rooms or out on the terrace – with warm hosting and local provenance central to the offering. Executive chef, James Forman and his team, love nothing more than seeking out the best local ingredients to create beautifully-presented dishes you really want to eat, using local produce at its peak and treating ingredients simply. From the finest cuts of meat to super fresh seafood and home-grown veg, dishes are designed with maximum flavour in mind.

---
Opening Times
Breakfast
8am-10am daily
Lunch
12pm-2.30pm daily
Dinner
6.30pm-9pm Sun– Thurs
6.30pm-9.30pm Fri – Sat
Afternoon Tea
3pm – 5pm daily
(Room service available 10-10.30am & 12noon – 9pm at a charge of £4.50 per tray.)
---
The Spa at Homewood Hotel and Spa
Homewood spa offers the perfect calming space to truly relax. Inside, guests will find a hydrotherapy pool, sauna and steam room and holistic treatments dedicated to restoring mind and body, while outside, you'll find a heated pool and plenty of space to lounge and rediscover your balance. You can simply sit and sip on something chilled from the pool bar or soak in the hot tub and enjoy the valley views. As a spa hotel, there's an array of g spa days, spa breaks and memberships for when serious relaxation is required.
Hotel residents can enjoy use of the spa facilities from 3pm on the day of arrival until 11am on the day of departure.
---
Homewood Hotel & Spa Location
Map & Directions
Address
Freshford
Bath
BA2 7TB
Guests will find plenty of free parking is provided at the hotel
---
How to get here
By car
Freshford is just outside of Bath, accessible by car from the A36 if travelling from Bristol or Bath. To reach our hotel near Bath from the M4, exit the motorway at J17 for Bath and follow the A4.

By train
The nearest train station is Freshford, just 7 minutes by car from the hotel.
By air
Bristol Airport is 50 minutes from Freshford by car, or 90 minutes by train.
---
Enter your postcode to view approximate driving directions to Homewood Hotel & Spa.
Location & Local Attractions
Homewood Park Hotel & Spa is located 6 miles south east of the Georgian city of Bath.

The hotel is set in delightful grounds and there are many famous parks, gardens, museums, stately homes and National Trust properties in the area and exhilarating countryside walks to be enjoyed.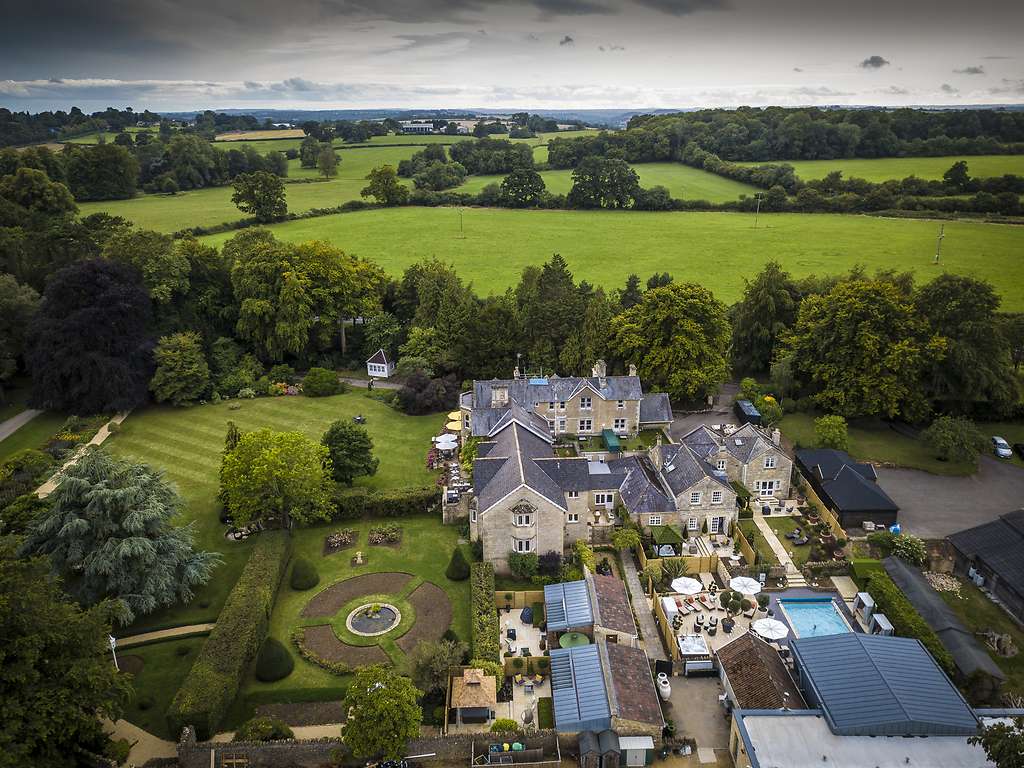 Homewood Hotel & Spa Reviews
Wonderful dinner
We had a two night stay. Staff friendly and helpful.
Had an issue with fire alarm but was rectified
Enjoyed the spa but feel that the treatments were too expensive.
Breakfast was good each morning and dinner in restaurant was wonderful even though only one
Vegetarian choice which made it difficult to eat there on the second night. However we had a pizza in the bar which was delicious. Bar staff were brilliant and on our first night light the lovely log fire for us and offered to do the same on the second night. Overall a very relaxing stay. Just what we needed especially with all the Coronavirus worries now.
2 day out of season stay at Homewood Park
We were made welcome from the moment we arrived including the dog. The only place the dog could not go was the restaurant and the Spa (obviously) but we were offered dinner in a separate lounge if we wanted the dog with us - turned out to be a real treat like having booked a private room. The food was excellent. There was building work ongoing to extend and improve the hotel which we knew about in advance but it did not affect our stay. The staff were all very friendly - the decor was quirky and classical at the same time!
Excellent value
From our arrival to our departure the staff were always helpful caring and on hand to do anything. We had a junior suite, it was lovely big bed huge, sofa and chairs, lovely bathroom and a very large window that overlooked the front grass & patio, it was so very relaxing, we had tea, coffee facilities, water & a fridge so you can keep drinks cool. Although the weather was awful, we still swam in the heated pool in the rain, went and used the spa facilities that all are inclusive, we had a treatment that was lovely (which we paid for). Bath is a short drive about 12 miles, parking is not easy especially on the Saturday, when we went. We can recommend the Roman Baths, it was fascinating, although i would book in peak times as we queued on a wet February afternoon, although not that long around 20 mins. We didn t get out much after that as storm Denis arrived..
Lovely relaxing place to stay. Loved the spa and our garden suite with its own hot tub. Bad weather meant we couldn t get the best use of the facilities or walk in between the grounds. Only thing that could have been better would have been more efficient bar service. Seem to have to wait an age to get a drink as soon there was only one person serving
Wonderful two night stay
My wife and I had a very enjoyable stay at the Homewood Hotel in December 2019. The staff were incredibly friendly and attentive, the room was well equipped and comfortable, and the hotel facilities were excellent. The quirky decor gave the whole hotel great character, but it still felt homely and comfortable. As it was not long before Christmas, the whole place was festively decorated (including the gardens), which made it a joy to see (especially in the dark when everything was lit up). We had a fantastic time in the spa, although we did find the outside pool too cold to use. The service and food in the restaurant was excellent (for dinner and breakfast). My only slight gripe is that the restaurant had the same menu on the two nights we stayed. As my wife is vegetarian, she had both vegetarian options, so I'm not sure what would have happened if we had eaten there for a third time. Overall it was a lovely place to stay, well placed for visiting Bath and the surrounding area, and we will definitely return.
Ok, but only Ok
No welcome drink
One evening fire alarm
One evening gas leak
Rules posted about children but not enforced meaning there was no quiet time at the pool which you kind of expect at a spa hotel.
Seemed like the place was under new management and they were only starting to figure things out at the hotel.
Food irritations mar otherwise lovely stay.
Recently refurbed Room superb. Only negative, majority of TV channels didn't work. Change in decor by new Owners generally very pleasing, new warmth to the old place. Breakfast, taken twice, quite disappointing, and my usual litmus test of the scrambled. However, poached eggs excellent.
Biggest beef; we object to being asked to pay a premium for so called speciality coffee. This sets out to display itself as an up mkt 4+ Star establishment with prices to match.On this basis you should not be behaving like a holiday inn or travel lodge. VERY POOR, WRONG IMAGE & MESSAGE.
The obvious attempts at portion control; and cost saving are largely acceptable and generally done with a degree of style ....... most of us hate waste and unnecessary greed. But, breakfast was poor in presentation, overdone on portion control and the coffee debacle was really pain and disgrace.
Dinner, taken on 1xnite was unspectacular. Onion soup bland and too sweet. Souffle, over cooked and almost scrambled egg . Neither of us can recall our mains; acceptable but not memorable sadly.
Pre dinner cocktails well made and presented; no nibbles offered. Overall, the F&B side rather disappointing. Everything else very acceptable. Facilities well maintained and/or in process of being .
Grounds, gardens an absolute delight.
This was our 6th visit to this hotel, we will return next year but seriously expect an improvement to the F&B side. Otherwise, next year will be our farewell.
A welcoming venue
All the staff were very helpful and friendly. On our arrival we were made to feel welcome and nothing was too much trouble during our stay. The garden and grounds were beautiful, providing a relaxing environment. We would highly recommend this hotel.